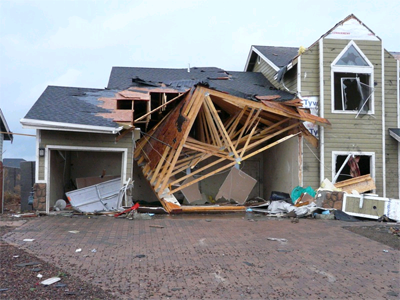 Fire and Smoke Damage: When you choose ICN to take care of your home after a fire you can be assured that your home is in good hands. Our employees take great care in educating homeowners throughout the process so they are aware of every important step in making sure all the smoke odor is removed.
Flood / Water Damage: Water and flood damage from can come from a few different sources but the most common are: broken pipe, roof that is leaking, supply lines, toilets, r/o systems and water heaters. It is important to mitigate quickly by using fans and dehumidifiers to minimize damage and mold growth.
Vehicle Impact: Vehicle impact into a home or business can sometimes weaken a structure and shoring will be needed to ensure the structure is safe. Engineering is very common in this type of loss.
Wind DamageThis is common after a micro-burst or high winds. It can effect roofs, windows, and patios.
Hail Damage: Hail damage can compromise a/c units, roofs, and windows.